Patients
Seven Oaks General Hospital is at 2300 McPhillips Street. Urgent Care Centre and Main entrances are off Leila Avenue.
Before you come to the Hospital
Please bring: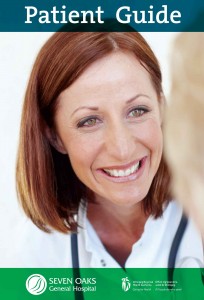 Manitoba Health Card
Proof of additional insurance coverage, such as Blue Cross for enhanced hospital accommodations
Workers Compensation Board (WCB) claim number (if you have one)
Social Insurance Number
Personal documents such as Care Directives and Public Trustee
Calling card for long distance calls
List of prescription medications that you are taking Additional Personal Items:
Slippers, pajamas and robe
Toiletries (toothbrush, toothpaste, shaver, brush, shampoo, etc)
Sanitary items
Medical devices, such as dentures and hearing aids
Please leave all of your valuables at home
The hospital is not responsible for lost, stolen or damaged items. We recommend that you send any valuable items home with a friend or family member. Please have items such as dentures, eye glasses and hearing aids in a suitable case with your name on it. Items like these, when wrapped in tissue can be easily mistaken for garbage and get lost.
Please note that small electronics for personal use must be battery powered as electrical outlets are for hospital equipment only. These devices must be equipped with ear phones so that other patients are not disturbed.
Arriving at the hospital
If you are being dropped off or picked up, you can use the Leila Ave. front entrance and your driver can park in the front parking lot, or you can use the east (McPhillips Street) Entrance just north of Urgent Care. There are two short term parking spaces reserved for Drop-off across from that entrance.
If you are coming to the Urgent Care Centre please see the Urgent Care Centre Guide.
If you are traveling and need accommodations
CanadInns Garden City located on McPhillips Street, offers a medical rate for patients traveling to receive services at Seven Oaks.
Please Note: You must present your appointment card or letter from your doctor with the date of appointment noted for the medical rate.
Information
The Information Services booth near the main entrance is staffed from 7 am to approximately 11:30 pm if you have general questions. You can also dial zero from patient telephones or call 204-632-7133 from outside the hospital 24 hours.
General email inquiries are welcome to [email protected] which is monitored weekdays during business hours.