Wound Care Services
Seven Oaks General Hospital provides wound care services to all patients, whether as an inpatient or as an outpatient attending one of the many day programs such as Dialysis or Oncology. Over 30 members of the multidisciplinary Wound Team delivers evidence based wound care to all patients in all programs using current and WRHA Best Practice guidelines for: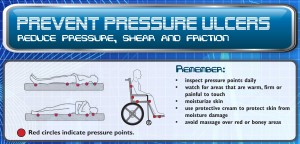 Diabetic Ulcers
Venous Ulcers
Pressure Ulcers
Malignant Wounds
Infected Wounds
Dermatology Concerns
Wound Care Services also places a large emphasis on wound prevention and staff and patient education. A pressure ulcer prevention program is an important part of the care received. Wound Care Services is also part of clinical trials, in an effort to offer patients an opportunity to be part of national research initiatives.
More information about Preventing Pressure Ulcers: